Open House November 17th, 2019
Dear friends of BBTRC,
Please come and visit for some food, music & drinks and of course experience our farm firsthand. Our riders, volunteers, instructors and rescued animals are hoping to see everyone there! We need your support!
We will also celebrate the end of the remodeling we went through this year ! Come see the improvements !
Back Bay Therapeutic Riding Club Annual Fundraiser
Sunday May 19th - 3pm to 7pm
At the Merrell Estate overlooking Newport's Back Bay
2182 Mesa Dr. Newport Beach CA 92660
For Tickets and more information, click here
Check out here our live auction items !!
Hope to see you there!
To donate a Live or Silent Auction Item, please fill out our Donation Form

Alice Krezymon - KESCA Coach of the Year 2018
In recognition of her dedication, passion and hard work our instructor Alice received this years Coach of the year award by the Kiwanis Club of Warner Center. We couldn't be more proud of you Alice, you are doing an amazing job!
Kiwanis Equestrian Competition for Special Athletes
November 4, 2018
Our students did amazing this year again at the KECSA, horseshow organized by the KIWANIS in LA! We took Boomer and for the first time Tenney, the horses were amazing! Thanks to all the volunteers for your help and congratulations to our 6 students who competed and won first and second places !!!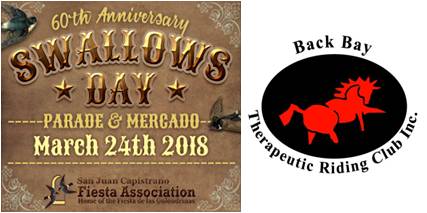 Come cheer on the Back Bay Therapeutic Riding Club, Saturday March 24th at the Swallows Parade !!! 🎉
6 riders and our 2 mini-donkeys are going to represent the club to raise awareness, please come support us !!
Our Open house was successful! So many new people and friends came in to discover our club, our horses and our students ! Even the Mayor of Newport Beach came and gave us a proclamation recognizing our work and benefit to the community! So grateful and honored!